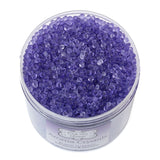 Black Tuxedo - Bergamot & Jasmine - 12 oz
SKU: 58363
Bergamot & Jasmine - A romantic evening filled with the citrus of Italian bergamot, pomelo and white grapefruit accented with jasmine, sandalwood, violet and silver cashmere.

For use with an Ooh La Lamp or a warmer that uses a 15 watt bulb.
Directions:

Note: Crystals shouldn't cover top of cage, prevents melting.