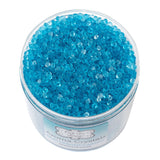 Beachfront Cabana - Seashore Musk - 12 oz
SKU: 58370
Seashore Musk - Refreshing bright scent begins with fresh seashore, white grapefruit, mandarin, pineapple and crisp lemon bergamot. The heart is a green floral jasmine leading to a dry down of sweet tobacco musk.
For use with an Ooh La Lamp or a warmer that uses a 15 watt bulb.
Directions:

Note: Crystals shouldn't cover top of cage, prevents melting.