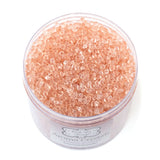 Evening Whisper - Luxurious Lavender - 12 oz
SKU: 58372
A fragrant picture of a summer evening in Provence. Harvest of purple flowers, fragrant lavender breeze intoxicates all senses while mixing with fragrant petals of meadow flowers. Fresh and relaxing composition leaves a soft, powdery trail.
For use with an Ooh La Lamp or a warmer that uses a 15 watt bulb.
Directions:

Note: Crystals shouldn't cover top of cage, prevents melting.